Cheeky Monkey™ Chi Stick™ – Cannabis Infused Vape Cartridge
Cheeky Monkey™ Releases Our First Cannabis Product: the Chi Stick™ – a Premium THC & CBD Infused Vape Cartridge

Cheeky Monkey™ is a new start up cannabis and vape lifestyle company with a pointed target: We aim for generational change in how cannabis and its community are viewed and integrated into society and to become the brand leader in the cannabis marketplace. We are proud to release our first product – the Chi Stick™: our premium, high quality CANNABIS CLASSIC AWARD WINNING THC+CBD vape cartridge.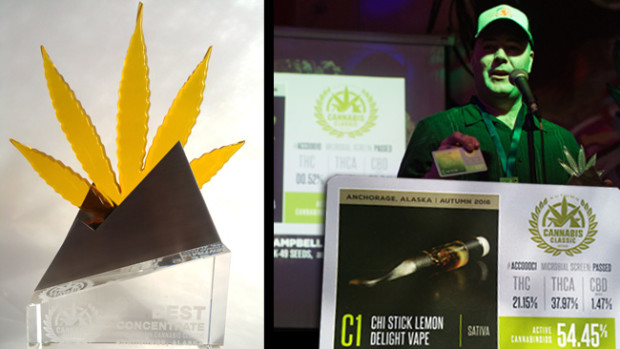 The CANNABIS CLASSIC Award Winning Chi Stick™
Our Chief Product Officer, master grower and owner of Alaska Thunder Skunk farms, Andrew Campbell won CANNABIS CLASSIC'S 1ST PLACE AWARD: Concentrates for the Chi Stick™Lemon Delight flavor vape cartridge.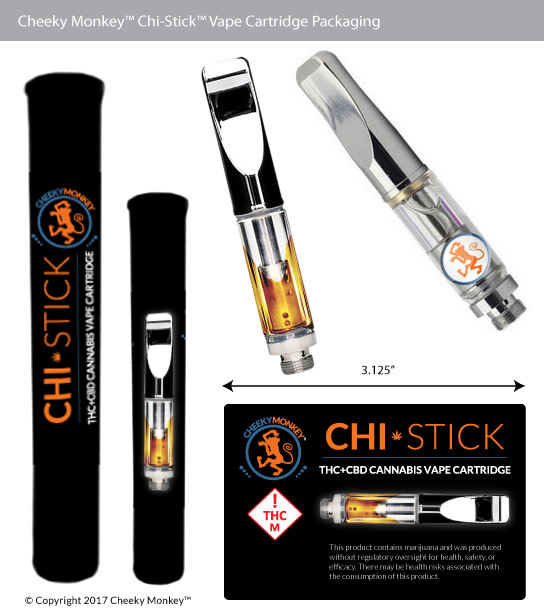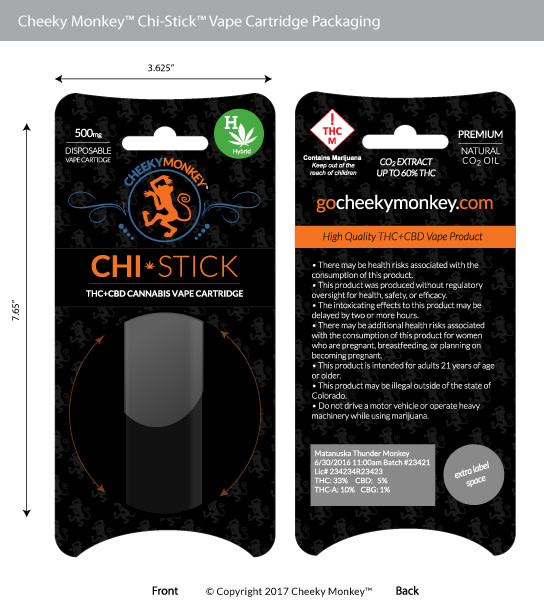 Why A Vape Cartridge?
Vaping is one of the quickest growing smoking markets worldwide. The majority of adults currently trend toward vaping and edibles over traditional smoking.

Vaping is more health conscious, and less "offensive" to non-smoking crowds smoking option and is a quick effective method of public consumption for those entering the scene.

Our vape cartridge oil is made of the highest grade (up to 60% or more) THC+CBD extracts: 100% Colorado made, tested, and produced. We believe the taste and experience is second to none in today's cannabis vape market!

Why Cheeky Monkey?
A Cheeky Monkey™ LoungeStore™ works as either a vape-only store, OR a vape and cannabis dispensary depending on what's legal in your state. You could open as vape only at first and expand to cannabis as legalization grows!

At Cheeky Monkey™, we've made our brand our priority. We strive for all locations to be: friendly, open, bright, and community-minded environments that promote bringing cannabis into a socially acceptable format.

Already have a location or store? Perfect! Converting your business to a Cheeky Monkey™ LoungeStore™ is a great way to expand your brand, your connections and your reach!

Our Cheeky Monkey™ executive team has top-notch business and marketing experience in addition to cannabis grow and product experience – we know what it takes to launch a successful  business!

Cheeky Monkey™ focuses on quality: we want visitors from novice users to cannabis experts to know they get the consistency, quality and care they want from every product and service we offer.